Irish News 25 Sept 2000
Model doctor joins Holby City team

By Olivia Convey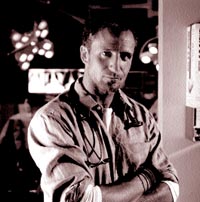 Holby City starts on BBC 1 on October 5.

Strolling into a bar in downtown Miami, Jeremy Sheffield caused quite a stir. But the new Holby City sex symbol couldn't understand why – until he suddenly spotted himself on screens eight-feet high.

"There was a live band playing at the time, but they were screening a music video as well and it was the one thing people still recognise me from," he explains.

In fact Sheffield co-starred with pop star Natalie Imbruglia on her hit single Torn.

"I just hadn't realised when I made it that it would be such a hit – I confess, I'd never even heard of Natalie."

Holby's new heart surgeon is more familiar with classical music.

The son of a drama school teacher, he won a place at White Lodge, the Royal Ballet training school at the age of nine.

He survived the gruelling training and went on to dance with the Royal Ballet for nine years, touring the world. But injuries and disillusionment drove six feet three-inch Sheffield away from dance in his early 20s.

"I have had four operations on my ankles," he says with a grimace.

"But ballet dancers are notorious for injuries. It is far worse for the girls because they have to go on point so their feet get really mangled.

"I had got to a point that I really wasn't happy with the company, it felt very institutionalised – just like the army.
"I started to try and rebel and became quite lazy. In the end I decided it really wasn't for me any more."

Essex-born Sheffield then went from a life of harsh discipline to one of cushy luxury – he became a model. His hunky good looks and well-honed physique made him a natural for commercials and magazine spreads.

"My very first modelling job got me enough money to pay off a big tax bill, how could I not like the life?" he reasons.

"They haven't all been things I am that proud of though.

"There was one advert for a newspaper where I had to be in a jacuzzi, drinking champagne wearing only a bow-tie. Luckily it was only on a couple of times and none of my friends managed to tape it."

He is even bold enough to reveal that he was at one time the man at C&A.

"It was an advert for their stores in Germany though," he explains pointedly. "It has a totally different image over there, it is a really cool place.

"The shoot was massive, there were thousands of extras and I was dressed up with gold hair and a top hat, like a fantasy magician. It was good fun."

Now Sheffield is getting used to the urban chic look of surgical registrar Alex Adams, a man with the kind of sure-footed arrogance that is likely to rattle the cages of some of his Holby City colleagues.

"He has been working in the field in Rwanda and has some rather unconventional ways of doing things – but they work," grins Sheffield.

"A lot of his colleagues think he suffers from over-confidence and that he will slip up one day. But he is actually bloody good at what he does."

The 34-year-old insists he is nothing like his character. Having moved from ballet to modelling and then, eventually, breaking into acting, Sheffield insists he is still on a steep learning curve.

His CV tells a different story. He may still be best known for that pop video, but he has also starred with Sam Neil in the film Merlin, as well as a part in ITV's The Governor and spent a season with the Royal Shakespeare Company.

"Now that was scary," he laughs. "I was there with all these well known actors at the first read through and they all had these wonderful, booming voices – mine came out like a little squeak."

A confirmed bachelor, Sheffield is canny enough to know that his looks and the role he has been cast for are designed to please female viewers.

In such a high-profile show he is steeling himself for the effect he may have.

"I suppose Alex is supposed to be a bit of a sex symbol," he says with embarrassment.

"He is meant to be an attractive man so if the character is working, I should be getting fan mail about him. But you have to have a separation between the part you play and real life."

To make sure that he could carry off Alex's sure-fingered way of working, Sheffield watched a triple heart by-pass operation at Middlesex Hospital – and surprised himself by not fainting.

"I had even asked them to get a chair and have someone standing by to catch me," he jokes.

"I am squeamish, even watching things on television. But the atmosphere in the operating theatre was so intense and so unemotional that I was fascinated."

Could be time for another change of career, then.