ic Teesside Interview
Inspired Acting
August 10th 2003

By Sunday Sun
Departing Holby City heartthrob Jeremy Sheffield has paid tribute to a North actor and former colleague as he prepares to leave the show.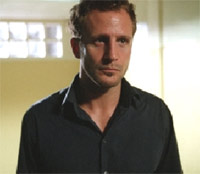 Jeremy, who plays his last scenes as Dr Alex Adams in the popular medical drama this week, heaps praise on inspirational actor George Irving, from South Shields, South Tyneside.
He says George who played ice-cold surgeon Anton Meyer before he left the show at the height of his popularity was the man he looked up to most during his three-year stint on the wards.
Jeremy said: He was extraordinary. He spent the whole time creating a marvellous character who is a mile away from George as a person. His demeanour, his attitude to his work, no matter what was going on around him, was inspiring.
Hugh Quarshie and Art Malik are two more skilled actors who are amazing to be around. Subliminally it just rubs off on you, and that has been a great joy.
But, he said, it was time to move on to other projects even though Holby City has been good for his career. He said: What is the point of being an actor if you dont take on different roles? Im not big on security. It dampens me down.
It feels like a big leap and Im nervous to be leaving because I dont know what is going to come next, if anything at all, but if I dont have the challenge or fear of finding another job my energy levels go down. The risk-taking is good for me. It fires me up. The gamble of leaving a job with relative security does, however, look like it will pay off, even though most actors spend much of their time resting.
Jeremy recently took a six-month break from Holby City during which he notched up five other projects.
And he has landed a part in the feature film Something Borrowed. Its a romantic comedy starring Jack Davenport and Tom Conti which has just started filming in London.
After that? Hollywood appears to be beckoning, and there is no doubt that viewers will not have heard the last of Jeremy Sheffield.
In Tuesdays episode his character finally comes to terms with the onset of Parkinsons disease in the climax of a plot that has been running for several weeks. Alex finally accepts that his career as a surgeon is over and looks for job opportunities in research.
Jeremy said he was anxious to make sure his performance was not seen as patronising to real-life victims of Parkinsons.
He said: I was concerned that there would be people watching who have this disease in a very real way. I didnt want to shake my hands constantly for fear that it might look like a cliche.
Alex Adams is an intelligent, successful, confident individual who is given a frightening diagnosis and cant handle it. But with the help of his friends he accepts that he still has a life to lead.